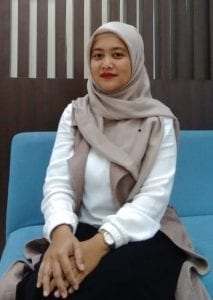 Full Name:
Ariana Marastuti, S.Psi., MSW
Email:
amarastuti[at]ugm.ac.id
[spoiler title="Educational Background"]
Bachelor Degree in Psychology, Gadjah Mada University, Department of Psychology
Master of Social Work, Washington University in St. Louis, Brown School of Social Work [/spoiler]
[spoiler title="Research Field"]
Clinical Psychology, Social Relations
[/spoiler]
[spoiler title="Research Interest"]
Mental health, Mental health literacy, Community Health workers, gender and mental health
[/spoiler]
[spoiler title="Teaching Field"]
Mental Health, Psychology and gender, Community Psychoeducation, Community Empowerment
[/spoiler]
[spoiler title="Publication"]
Marastuti, A., Anggoro, W.J., Marvianto, R.D., dan Al Afghani, A.A. (2020). Perbandingan Properti Psikometri antara Tes PAPs Berbentuk Computer-Based dan Paper and Pencil Test. Gadjah Mada Journal of Psychology (GamaJoP), Vol 6 (1): 12-28. DOI: 10.22146/gamajop.51852
Marastuti, A., Subandi, Retnowati, S., Marchira, C., Good, M., dan Good, B. (2020 Development and Evaluation of a Mental Health Training Program for Community Health Workers in Indonesia. Community Mental Health Journal, 1-7. DOI: 10.1007/s10597-020-00579-7
Retnowati S., dan Marastuti A. (2016). Evaluation of Capacity Building Needs for Mental Health Cadre in Primary Health Care Level. International Journal of Psychology.
Marastuti A. (2012) Posisi dan Reposisi Peran Psikologi dalam Layanan Kesehatan, Pustaka Pelajar, 228-251.
Marastuti A.(2017) Meretas Masyarakat Sehat Jiwa Dalam Psikologi untuk  Indonesia Maju dan Beretika, Gadjah Mada University Press, 150-165.
[/spoiler]
[spoiler title="Research"]
2020: Development and evaluation of Peer educator program for leprosy patients who have mental emotional problem
2019: Development of recovery oriented model for mental health services at primary care level
2018: Comparing two model of training for mental health care: An action research to scale up the program
2018: Perceived Barriers and Perceived of Benefits of medical treatment among Psychotic patient and family
2017: Simbah (grandparents) who have the role as parents among Javanese community
2016: Explorative study among mental health care at the primary health care system
2015: Mental health village cadre improvement program: An integrated training models
2014: Mental health literacy among students of health professional program.
2013: A study of health Seeking Behaviour among Junior High school Students in Daerah Istimewa Yogyakarta.
2012: Explorative study of intergenerational concept of  masculinity and feminity among Javanese
2012: Need evalution of mental health village cadre for capacity building program at primary health care service.
2010: Women's health disparity in Indonesia:  Study of women's health outcome and its contributing factors across six regions
2010: The relationship between masculinity and perception toward intimate partner aggressive behaviour among Javanese-Muslim Men.
2007: Needs assessment and social analysis of women's reproductive health in nine communities, Kokap District-Kulonprogo.
2006: Policy analysis of "Gender Mainstreaming" program in education, health and occupation in Boyolali, Jawa Tengah.
2006: Gender budget analysis of Kulonprogo Regency annual budget 2005.
2002: The psycho-social impact of urban generator for the community: case study at Malioboro Streets Area.
2001: A study of architectural – psychosocial in designing the sustainable transportation system in Yogyakarta.
2000: A participatory research: the entrepreneurship training of small industries in Kasongan Area, Yogyakarta.
1999: Architectural-Psychology study of small industries community: A comparative study of three areas Maguwohardjo, Pucung, Wukirsari, and Kasongan, Yogyakarta.
1998: Improving child self confidence through father's involvement in children's inner life. Yogyakarta.
[/spoiler]
[spoiler title="Conference"]
2018       : European Conference on Mental Health, October 2018, Croatia
2019       : Temu Ilmiah Himpsi, April 2018
2018       : Scientific Manuscript Workshop, Dubai 15-21 May 2018. Conducted by Harvard Medical School.
2017       : European Conference on Mental Health, Berlin October 2017.
[/spoiler]
[spoiler title="Professional Experience"]
2010-present: Lecturer at Faculty of Psychology-Universitas Gadjah Mada, with Major in Clinical Psychology and Minor in Social Psychology. Research area: gender, indigenous concept of masculinity and feminity, domestic violence and mental health issues.
2010-2011: Executive Director of Women Human Rights Institute  (Institut Hak Asasi Perempuan – IHAP).
2005-2007: Research and Information officer of Women Human Rights Institute  (Institut Hak Asasi Perempuan – IHAP).
2003-2005: Campaign coordinator on the project COP Human Rights Center Study of Indonesia Islamic University (Pusat Studi Hak Asasi Manusia-Pusham UII).
1999-2001: Volunteer Institute Development and Economic Analysis (IDEA).[/spoiler]