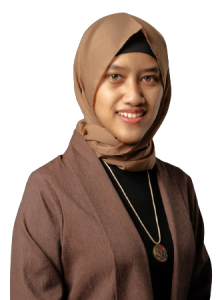 Full name:
Adelia Khrisna Putri, S.Psi., M.Sc
Email:
adelia.k.p[at]ugm.ac.id
[spoiler title="Educational Background"]
2015 – 2016 Msc. Clinical Mental Health Sciences, University College London, United Kingdom.
2010 – 2014 S.Psi. Sarjana Psikologi, Faculty of Psychology, Universitas Gadjah Mada, Indonesia.[/spoiler]
[spoiler title="Research Field"]
Clinical Psychology; Depression, Suicide Bereavement, & Mental Health Policy
Social Psychology; Indigenous psychology & Emotion[/spoiler]
[spoiler title="Research Interest"]
Suicide Bereavement; Emotion & Culture; Mental Health; Depression; Resilience; Indigenous Psychology[/spoiler]
[spoiler title="Teaching Field"]
Mental Disorder, Mental Health, Counseling, Group Counseling, Conflict Resolution, Communication Psychology[/spoiler]
[spoiler title="Publication"]
Putri, A. K., Yahya, A. N. F., & Saputra, A. R. (2019). Indonesian faculty barriers of providing help to college students in distress. Journal of College Student Retention: Research, Theory, & Practice. [Online First]
Helmi, A. F., Widhiarso, W., Putri, A. K., Marvianto, R. D., Priwati, A. R., & Shaleha, R. R. A. (2019). A model of online trust among adolescents. International Journal of Cyber Behavior, Psychology, and Learning. 9(2). (Accepted for publication)
Pitman, A., Putri, A., De Souza, T., Stevenson, F., King, M., Osborn, D., & Morant, N. (2018). The impact of suicide bereavement on educational and occupational functioning: A qualitative study of 460 bereaved adults. International Journal of Environmental Research and Public Health, 15(4), 643. DOI:10.3390/ijerph15040643
Pitman, A., De Souza, T., Putri, A., Stevenson, F., King, M., Osborn, D., & Morant, N. (2018). Support needs and experiences of people bereaved by suicide: Qualitative findings from a cross-sectional British study of bereaved young adults. International Journal of Environmental Research and Public Health, 15(4), 666. DOI: 10.3390/ijerph15040666
Pitman, A., Putri, A. K., Kennedy, n., De Souza, T., King, M., Osborn, D. (2016). Priorities for the development and evaluation of support after suicide bereavement in the UK: Results of a discussion group. Bereavement Care, 35(3), 109-116. https://doi.org/10.1080/02682621.2016.1254457
Putri, A. K., Prawitasari, J. E., Hakim, M. A., Yuniarti, K. W., Kim, U. Sadness as perceived by Indonesian male and female adolescents. International Journal of Research Studies in Psychology, 1(1), 27-36. http://consortiacademia.org/wp-content/uploads/IJRSP/IJRSP_v1i1/22-91-1-PB.pdf[/spoiler]
[spoiler title="Research"]
Completed
Undergraduate Dissertation: The Relationship between Negative Thought and Social Support with Depressive
Tendencies in Freshmen Undergraduate Students. (2014). Universitas Gadjah Mada, Indonesia
Ongoing
World Health Organization Adverse Childhood Experiences International Questionnaire (WHO ACE-IQ) as a screening tool for childhood trauma in adults.
The Support Needs of Indonesian Mental Health Stakeholders in Yogyakarta, Indonesia: In-Depth Interview Findings (In collaboration with the Faculty of Pharmacy – Research Grant Recipient).
Identity, multiculturalism, self-esteem, and life satisfaction of five ethnicities in Indonesia (in collaboration with Konsorsium Psikokultural Indonesia).
[/spoiler]
[spoiler title="Conference"]
Conference Paper: Are the Values Transmitted by Mother and Father Different? An Indigenous Psychological
Study. (2012). Presented at AAICP, Malaysia.
Conference Paper: Relation between Adolescent's Perception on Sadness and self-rated happiness: An Indigenous
Psychological Analysis. (2011). Presented at the 2nd International Conference of Indigenous and Cultural
Psychology – Universitas Udayana, Indonesia.
Conference Paper: Putri, A.K. Prawitasari, J.E., Hakim, M.A., Yuniarti, W.A., Kim, U. (2011). Sadness as perceived by Indonesian male and female adolescents. Presented in 9th Biennial Conference of Asian Association of Social Psychology.[/spoiler]